Bomber jacket personalization
A service allowing you to choose fabrics and patterns from the wide selection available at the atelier, for your future jacket.
We'll be happy to show you the different fabrics and help you make your choice while giving you the freedom to express your own unique tastes.

More information, here!
Personilize your Fanny Pack
Discover our fanny pack customization service. Add a unique touch to your bag by choosing from various options of color, patterns, and personalized details. With our service, you can create a fanny pack that perfectly matches your style and needs.
Discover our personalization service, Here!
Modernize a garment
Revitalize your wardrobe favorites! We offer garment alteration and customization services to transform your beloved old pieces into something new. Preserve the sentimental value while giving them a fresh and updated look.
Discover our garment modernization service, Here!
Have a unique swimsuit made
I create custom-made, personalized swimsuits, offering a unique experience where you choose colors and fabrics in my boutique. My goal is to help you feel beautiful and confident by enhancing your assets with a flattering fit.
Discover our swimwear service, Here!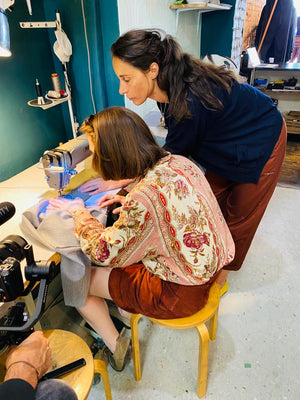 Have a unique experience during a workshop
Workshop of complete experience of creation of a piece of my collection with my fabrics at my side
Come and participate in a workshop, Here!
Flyer fan for your events
A fan creation service to promote your events, quality goodies perfect for the summer period.
Discover the service Here !